Printable instructions are PDF files. Proft's instructions are available in two formats:

• Traditional print (seven sheets)

• Booklet (six sheets), with glossary+more
Instructions for non-duplex printers:
1. Print odd pages only (subset option).
2. Remove, refeed sheets in proper order.
(Preface to print on backside of front cover)
3. Print even pages only (subset option).
4. Assemble in order, fold and staple.

(Click

HELP

for optional single sheet printing.)

Note: A "basic 42" version of my 42 game instructions (no discussion on indicating or game variations) is also available (traditional print, six sheets).

If needed, you can get a free PDF reader at the Adobe web site.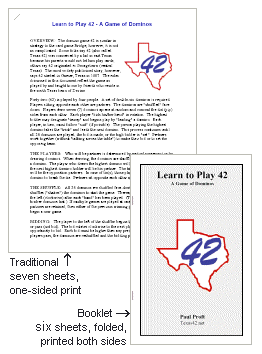 10Nov2016: Traditional= 9173, Booklet= 2619, Basic= 1021